Nov 27, 2019
Check them out and then check in…our stunning new bedrooms are here
They have been almost a year in the making, but we promise you our stunning new bedrooms are worth the wait. Stylish, sophisticated and sumptuous…we think it's impossible to run out of superlatives where these latest additions are concerned.
Regular visitors to the hotel will know that we've been working on extending into the building next door, ensuring that Aberdeen's most luxurious venue becomes even more fabulous. The extension of 21 bedrooms mirrors the sleek, contemporary style that has become a hallmark of The Chester Hotel, but there is more than just a nod to the past in these historic granite villas.
The properties were designed by one of the Granite City's foremost architects – A. Marshall Mackenzie – who practically built the entire length of Queen's Road. This included number 59, which he created as a home for himself and his family.
He developed the plans for a raft of other buildings in Aberdeen – including the city's art gallery and Greyfriars Church – along with prominent landmarks in London such as The Waldorf Hotel and Canada House.
It's no surprise, then, that we worked closely with Historic Scotland to ensure as much of the original features of these listed buildings were retained. Step into the new extension and you'll find doors, ornate staircases, fireplaces and cornicing dating back to the late 1800s.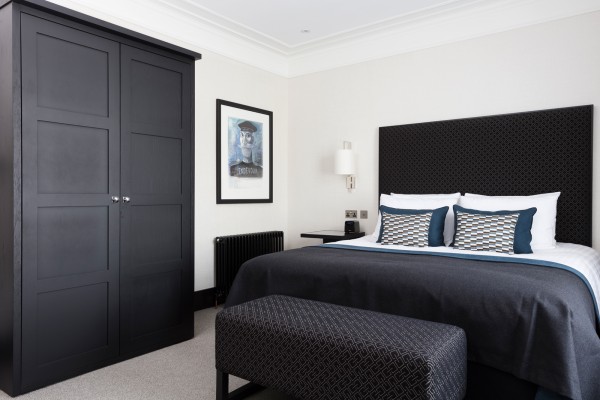 In some cases, these features had fallen into such a state of disrepair that they were not salvageable. Our solution? We asked very talented local tradesmen to create exact replicas to ensure that we did not detract from the overall feel of the villas.
But the real beauty of this restoration is the way in which we have married the old with the new. The décor is unashamedly modern: neutral tones are used throughout and bold splashes of colour and patterns bring the rooms to life.
With bespoke furniture setting off each room, a cookie-cutter hotel this is not. We've taken the existing room shapes and dimensions and made them work with unusual and quirky layouts.
Entry level Grand rooms come with oodles of space – one even has a stunning oval bath – while Club rooms have even more square footage. Some come with their own private patios, with floor to ceiling windows overlooking landscaped grounds, while others, including family rooms, occupy the entire top floor of the building.
The extension also features three suites: Rubislaw, Marshall and Mackenzie. With separate living areas, spacious bedrooms and bathrooms, the two suites that honour the architect also have private patio areas.
Regardless of which level you choose, you'll find standard Chester touches such as rainfall showers, Nespresso coffee machines, designer Noble Isle toiletries and individual internet access points so that you don't have to compete for WiFi with other guests.
The sensitive restoration is, quite simply, magnificent and cements our position as one of the most stylish venues in Scotland. Only, we're not quite done yet…watch this space for even more exciting plans next year.